Lucifer: 2x18
The Good, The Bad And The Crispy
After Charlotte accidentally charbroils a man to death in self-defense, Lucifer must try and keep Chloe from figuring out the truth. Lucifer puts Maze in charge of finding Charlotte and Amenadiel, who have both gone missing in light of recent circumstances, while he finds a permanent solution for the ticking-time-bomb he calls Mom.
Lucifer Season 2 Episode 18 (season finale) – review
Lucifer's season 2 ends with quite an episode. Everything is maintained in the standard tone of this production, but there is no lack of solid drama, emotion and humour. But in this respect, the lightness of convention is at odds with what they want to achieve here.
The issue of Amenadiel's rebellion seems plausible. After all, he was a faithful son of God, who had clearly lost his faith and with it his power. Therefore, drawing his attention to the fact of being God's favorite son must have an impact. It needs to change Amenadiel, develop his personality and put him on a new path. However, I am not convinced that this rebellion has been put to good use by the creators. From a purely comedic point of view, it works solidly (competing with Lucifer, sharing scenes with Dan), but from a storylines perspective it doesn't really have an impact. At the end of the day, the sword has to rise anyway, so the complication on this side is basically irrelevant to the story. Except that it affects Amenadiel, who develops as a character. Notabene said the sword was a bit disappointing. Why does a fiery sword have to look like a lightsaber?
It's good that Chloe's investigation is back to Lucifer's family. This builds the protagonist's dilemma and the necessary tension, which works really well in the finale. Well, you can see for a mile that Lucifer is interfering with the investigation, but you can turn a blind eye to that. Eventually, Chloe notices his behavior, but looks at it with concern rather than suspicion. I am able to accept that. The upside, however, is Lucifer's quick disconnection from the investigation, as his attempts to manipulate and spoil look too banal, perhaps even too humorous, and this does not fit the plot.
In fact, most of the drama comes from Charlotte, who suspects Lucifer's evil intentions. Making her the villain of the finale is a good idea, but its potential has not been fully realised. In fact, the threat to Chloe's life and that of your psychologist is illusory. It's supposed to build emotion, but somehow it doesn't. Don't get me wrong, the themes of both characters in this episode are really well watched. I mean, it's all starting to conflict with the convention. It's light, fun and enjoyable all the time, which is why I can't believe the danger and the emotion. In fact, there's something wrong with the finale, because in the end that credibility was much higher when Chloe was infected with a virus and Lucifer had to save her. So you can see they can do it better. Lucifer season 2 episode 18 watch online free.
Perhaps the problem with the emotional tone of the whole Charlotte storyline is to minimize its significance to a family feud. And with such an impression, the stakes of the finale are not what the creators would like to build. I don't deny, however, that the ending of the mother's story is good. Offering her a new place to create her own world is a good thing. It's basically the safest they can afford. He doesn't take the show in any direction – not towards the war in heaven or the death of his mother, which could change the characters.
The Cliffhanger promises significant changes to the show that might somehow get it moving. Opening up to Chloe is sure to help develop the show's leading relationship. However, the question of rewarding Lucifer with angel wings is a very intriguing procedure with great potential. That means God was watching the heroes ' actions all the time. And in fact, their plotting and plotting from above were doomed to failure. Lucifer season 2 episode 18 full episode online free.
Despite some shortcomings in terms of building emotion and drama, I can't deny the entertaining nature of this finale. Everything is viewed pleasantly, lightly, and the cliffhanger promises plenty. I get the impression, however, that Lucifer can do better. A little light convention becomes a trap for writers, from which they don't quite know how to get out.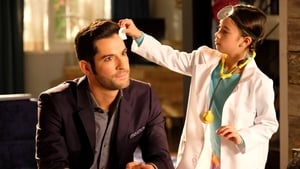 May. 29, 2017